December is a bit light on new SFF, but I like to think that it gives you the opportunity to add one or two new books on top of your already teetering TBR stack, as you settle in to catch up on the year's best books over the approaching holidays. In a nice twist, the end of the year is seeing a lot of beginnings: Two established fantasy authors (Michael Moorcock and Mercedes Lackey) have new prequels out, broadening the scope of their already vast magical worlds by following the people who founded them.
Plus, it's your chance to read the Booker-shortlisted South Korean collection of surreal stories you've likely heard about. And Angry Robot Books follows up on its commitment to publishing more Black voices with a sparkling Afrofuturistic debut. In solidarity with the striking HarperCollins workers, I'm not featuring Harper titles in this month's roundup.
*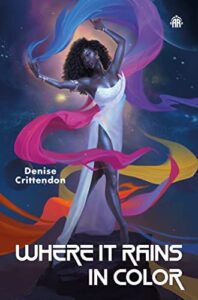 Where It Rains in Color by Denise Crittendon
(Angry Robot Books, December 6)
In response to the George Floyd and Black Lives Matter protests in 2020, Angry Robot Books established a Black Voices Matter open submission period for Black SFF writers without agent representation; Denise Crittendon's magical Afrofuturistic debut is the first acquisition. Inspired by the journalist's time in Zimbabwe, When It Rains in Color takes place on the stunning planet of Swazembi, a popular vacation destination for its intensely colorful vapors. Its inhabitants reflect that vibrancy with their shimmering skin—none moreso than Lileala, who has just earned the title of Rare Indigo for her particular radiance. But when visitors escaping their dying planet infect Lileala with a fatal skin disease that dulls her shine with scar tissue, she must confront an entirely new destiny and find who she really is when she's not the epitome of beauty.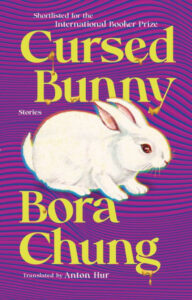 Cursed Bunny by Bora Chung
(Algonquin, December 6)
South Korean author Bora Chung's get-under-your-skin collection was published in 2017 and translated by Anton Hur last year (when it was shortlisted for the Booker International Prize), but this is the first time it's been published in the U.S. These multiple lives of this collection take on the feeling of a story you've heard of distantly, so that by the time you get the chance to experience it yourself, the anticipation has ratcheted up. To wit: stories about a young woman's doppelganger made of her cast-off hair and feces, or a young woman who in a surreal twist gets pregnant because she takes birth control for too long. But it's not just young women who are subjected to misfortune; the title tale concerns a rabbit-shaped lamp that brings a curse upon the family, but it's told from the perspective of the patriarch of the clan who made it in the first place knowing what its impact would be.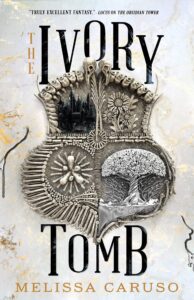 The Ivory Tomb by Melissa Caruso
(Orbit Books, December 6)
Melissa Caruso brings her dark fantasy Rooks and Ruin trilogy to a close with a final definitive showdown between humans and Demons. But it's not so easy to declare a victor, as personal ties snarl their associations: Heroine Ryxander of Morgrain not only has to face her own grandmother, the Lady of Owls, and Ryx herself now carries the Demon of Disaster in her head. Balancing negotiations with the more approachable Demons against the rapidly approaching war between the Serene Empire and the Witch Lords, Ryx has no choice but to return to Gloamingard Castle: By blood the Door was opened and only by blood will the Dark Days end.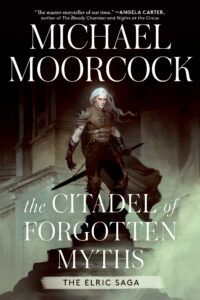 The Citadel of Forgotten Myths by Michael Moorcock
(Saga Press, December 6)
Elric, a.k.a. the Prince of the Black Sword, was last seen in novel form in Michael Moorcock's 2005 fantasy adventure The White Wolf's Son, and in the 2010 novella Black Petals. Now, over a decade later, he returns in a prequel novel that takes place between the first and second volumes of the Elric Saga, as Elric struggles with said sword Stormbringer and its thirst for souls. Estranged from his people the Melnibonéans, Elric nonetheless journeys to the World Below in order to understand how a segment of his people have taken up with the dragon-like Phoorn. It's both a treat to patient fans and a great entry point to new readers.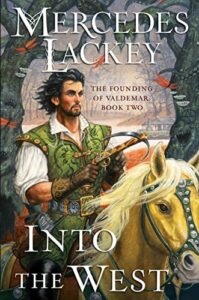 Into the West by Mercedes Lackey
(DAW, December 13)
While acclaimed fantasy author Mercedes Lackey has been writing in her Valdemar universe since 1987, recently she went back in time within her own world to tell of the Founding of Valdemar itself. The first book in this new series, 2021's Beyond, saw Duke Kordas Valdemar rally the inhabitants of his backwater duchy to prepare for their flight from the militant Empire before it could plunder the land and put the people into service on the front lines. But the haven they found at the end of the first adventure was not their final home; for that, they must venture further (you guessed it) Into the West. Kordas knows he is asking much of his people, especially as the next leg of their journey will take them into a wilderness scarred by the dark magic of the Mage Wars. Despite the fact that readers know how things will turn out generations later, it sounds as if there's still a long way to go before it's the Valdemar they will recognize, which makes the journey all the more compelling.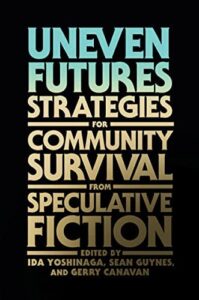 Uneven Futures: Strategies for Community Survival from Speculative Fiction edited by Ida Yoshinaga, Sean Guynes, and Gerry Canavan
(MIT Press, December 20)
This is the best way to end the year, with a collection of nonfiction essays (most of them resembling Internet thinkpieces) from a bevy of cultural critics, SFF authors, game designers, scholars, and activists… all of them analyzing the futures that we've already witnessed via speculative works. Ruminating on everything from beloved sci-fi cult classic Farscape (I can't wait to read my Tor.com colleague Emmet Asher-Perrin's thoughts on this!) to Ursula K. Le Guin's The Dispossessed, these 40+ writers tell us about the speculative scenarios that stuck with them. Considering our past few years, we could use these blueprints and roadmaps to surviving our own future.
*
Natalie Zutter is a Brooklyn-based playwright and pop culture critic whose work has appeared on Tor.com, NPR Books, Den of Geek, and elsewhere. Find her on Twitter @nataliezutter.
Created by Grove Atlantic and Electric Literature